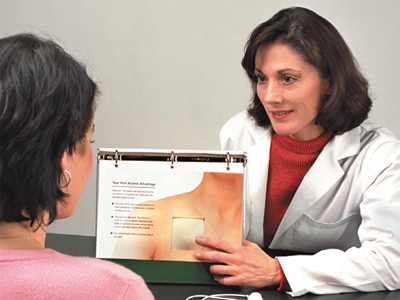 Your Port Access Advantage
Global market leader Bard Access Systems retained the agency to develop a Patient Education Program that would enable infusion nurses to inform cancer patients about the advantages of implantable ports over peripheral IVs in chemotherapy delivery.
Winner BPAA Silver Key Award: Total Educational Campaign
The primary objective of the program was to foster patient awareness and preference for implanted ports through a presentation of their purpose and advantage, as well as education on their use and care.
See below for a detailed explanation of the strategies behind this successful campaign.
The primary target audiences for the program were Oncology Nurses, outpatient infusion departments, and cancer patients in the US.
According to Bard Access Systems, Your Port Access Advantage set a new standard in cancer patient education. In fact, the marketing department reported an increase in implanted port sales of approximately 10% in a year when the company introduced no new ports and only promoted the availability of the new education program. Further, one of Bard's chief competitors later stated the initiative created a "paradigm shift in future cancer patient education programs."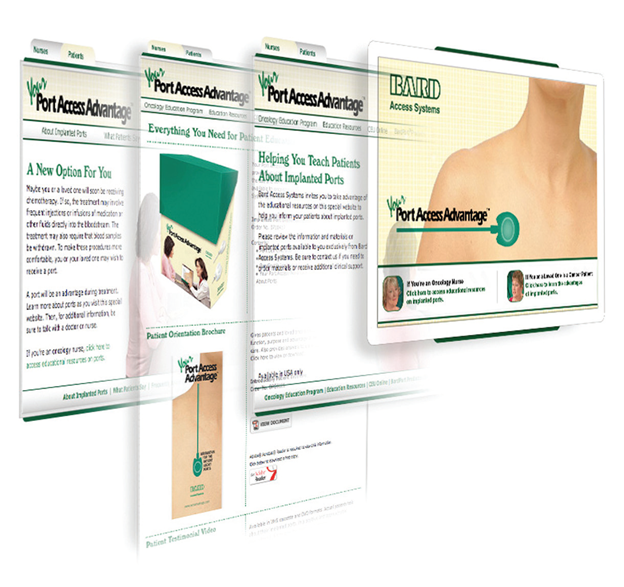 In order to provide oncology nurses with everything they needed to inform and educate cancer patients on the advantages and use of implanted ports in chemotherapy delivery, we developed a comprehensive patient education program entitled: Your Port Access Advantage.
Housed in a reusable display box, the program included a distinctive presentation binder that featured a demonstration page with synthetic "skin" overlaying an actual port that allowed the nurse to show where the port was placed in the body, and how it was accessed for chemotherapy delivery. The program also included an award-winning DVD/VHS presentation that featured nurse and patient testimonials about ports, along with patient orientation brochures and Instructions for Use. In addition, an online presence was created for the program via a dual portal website designed for both patients and clinicians.