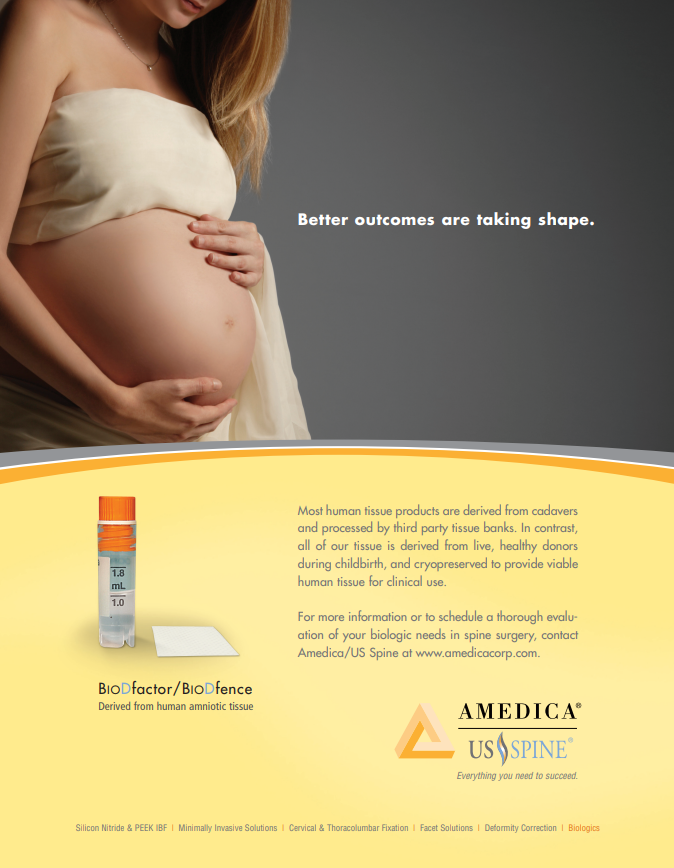 Spinal implant company Amedica introduced a new line of allograft products designed to enhance the healing process following invasive spine surgery. Unlike available alternatives, Origin Ortho Biologics were made of tissue derived from amniotic membrane harvested from live, healthy donors during childbirth.
Griff/SMC created a single page advertisement to support the product launch to target markets.
Winner BPAA Gold Key Award: Best Strategy Single-Page Print Advertising
Introduce and position Origin Ortho Biologics to the target audience.
Differentiate Origin Ortho Biologics from allograft alternatives.
The agency developed an introductory ad featuring a pregnant woman to emphasize the unique origin of the biomaterial. In medical advertising, it is critical not to make any claims that are not approved by the FDA. The headline: "Better outcomes are taking shape" was a subtle reference to the healing characteristics of the material (an approved claim) as well as to the source of the biomaterial (amniotic tissue). The ad ran in Orthopedic and Spine Surgery publications over several flights throughout the year.
Orthopedic surgeons and neurosurgeons specializing in spine surgery.
The President of BioDlogics (the manufacturer) raved about the image of the pregnant woman, saying it "captured the essence of the brand". And according to Amedica's Marketing Director, "We hoped to sell $800,000 in the first year. Because of the exposure from this ad, we more than tripled that number, coming in at about $2.7MM for the year."