Steeped in science and developed by doctors, DIFINSA 53 Skin Protectant Lotion was specifically formulated for skin exposed to radiation.
The result of over 10 years of collaboration by a multi-disciplinary team of oncologists, dermatologists and pharmacologists at the University of Colorado, DIFINSA 53 Skin Protectant Lotion temporarily protects and relieves chafed, chapped or cracked skin, and promotes radiation therapy compliance.
Winner BMA Silver Key Award: Total B2B Campaign
Introduce and position DIFINSA 53 Skin Protectant Lotion to target audiences at ASTRO 2015.
Differentiate DIFINSA 53 Skin Protectant Lotion from other skin preparations used during radiation therapy.
Gain in-office distribution and stimulate recommendations from radiation oncology physicians & nurses. 
A comprehensive launch campaign was developed to achieve objectives, including: Direct Mail, Exhibit Design, Special Event Sponsorship, POP Display, Clinician and Patient Collateral, Website and Public Relations.
Radiation Oncologists, Radiation Oncology Nurses, Cancer Patients Receiving Radiation Therapy, Cancer Patient Families and Caregivers
According to the client, the launch campaign netted impressive results, and exceeded expectations in achieving a primary objective of product distribution in the radiation oncology office.
The following strategies contributed significantly to the success of the campaign:

Special Event Sponsorship: After reviewing promotional opportunities for exhibitors at ASTRO 2015, the primary conference for Radiation Oncologists, the Agency determined no sponsorship program was available for Radiation Oncology Nurses, a key target for the launch.
After extensive communications between the Agency and ASTRO Management, our client was granted the opportunity to be exclusive sponsors of the Nurses Annual Luncheon, attended by 120 Radiation Oncology Nurse Directors and Mangers. As a result, 60 POP Sample Displays were requested by the nurses for in-office use, representing a robust 50% conversion rate.
Direct Mail: Two oversize postcards were mailed to the ASTRO membership, prior to the association's annual meeting. The mailing introduced and positioned DIFINSA 53, while encouraging recipients to visit the booth for a free sample.
Out of 4,000 records, over 40 attendees brought their postcard(s) to the booth to collect a free sample, resulting in a 1% response rate.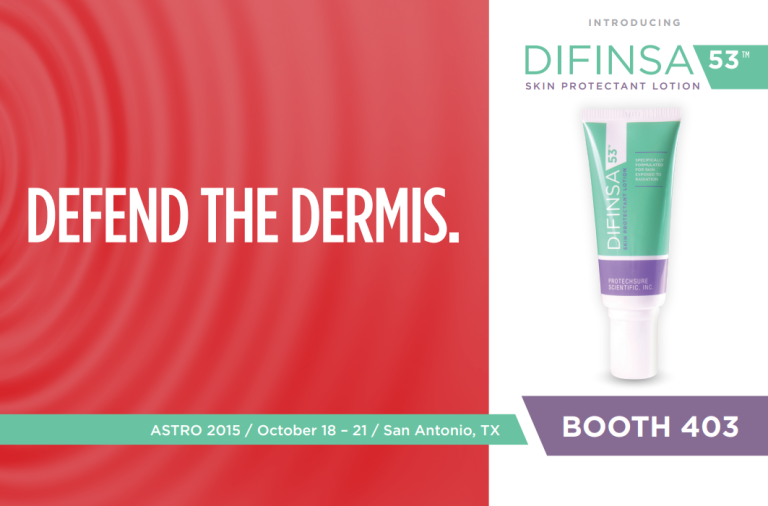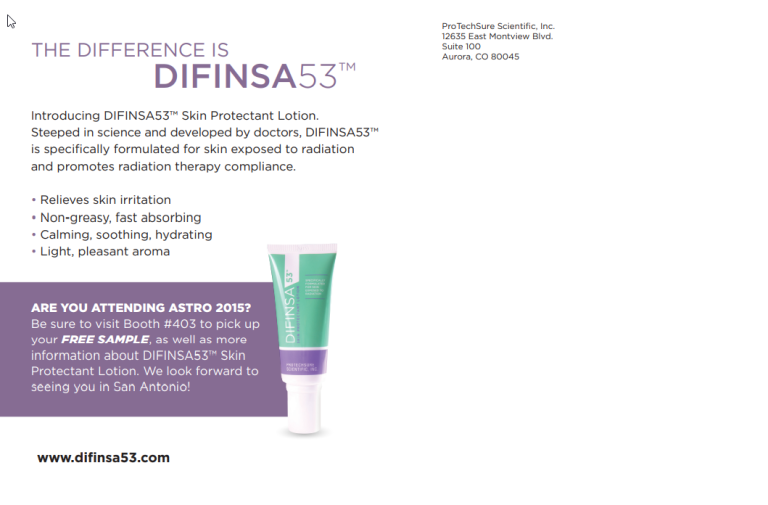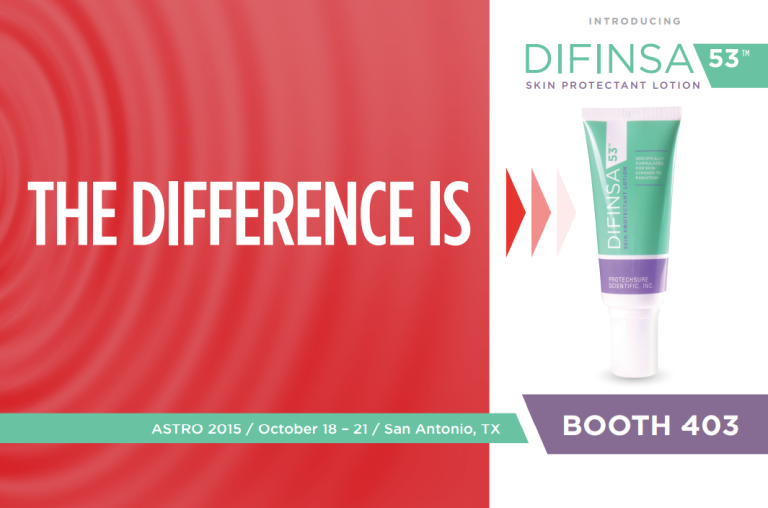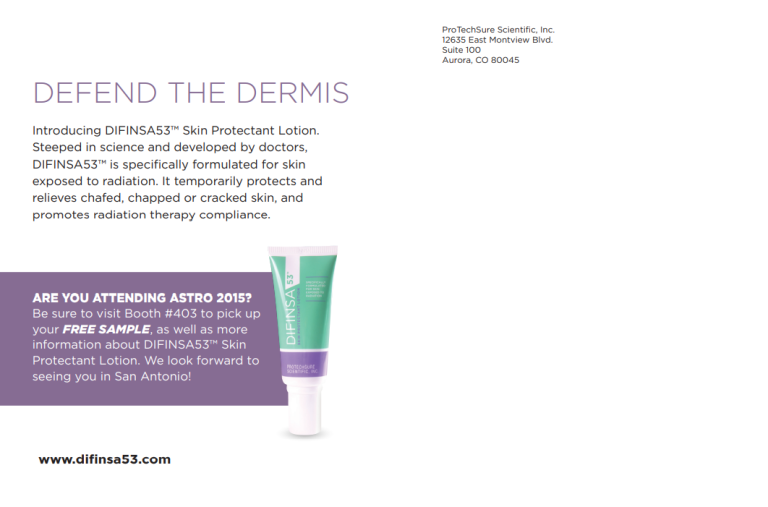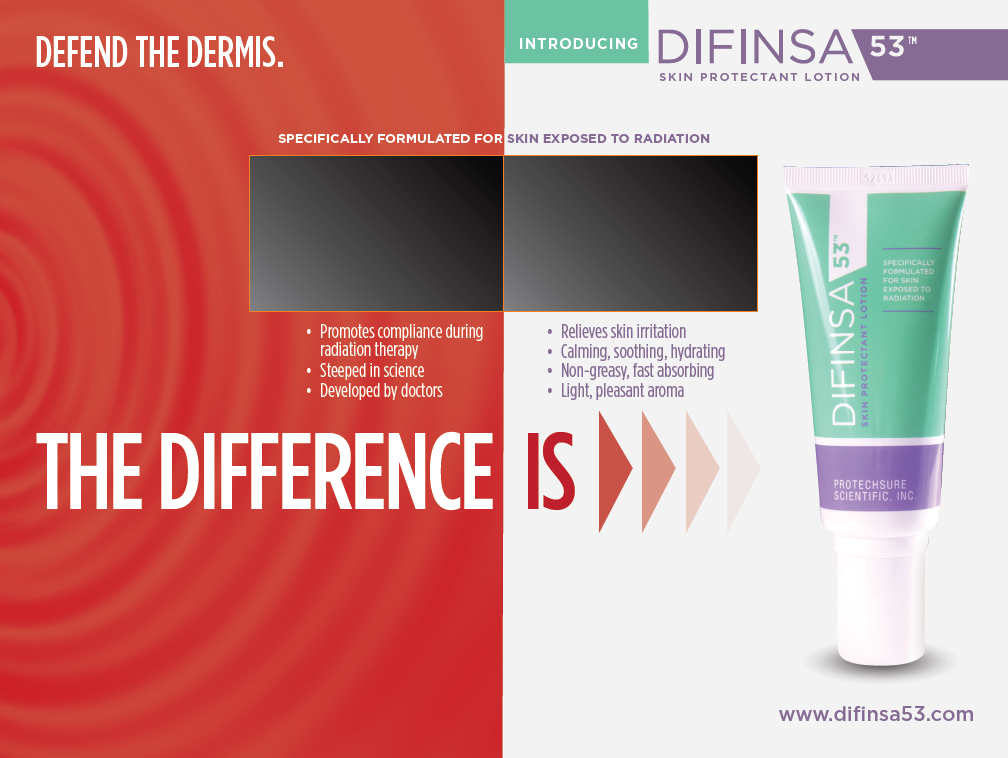 Exhibit Design: A stunning red backdrop helped to engage attendees and communicate the condition of radiation burns. Cool branded colors, and a larger than life size tube of DIFINSA 53 Skin Protectant Lotion with salient copy helped to convey the benefits of the product in protecting patients against the effects of radiation.
Over 200 attendees visited the booth requesting additional information.