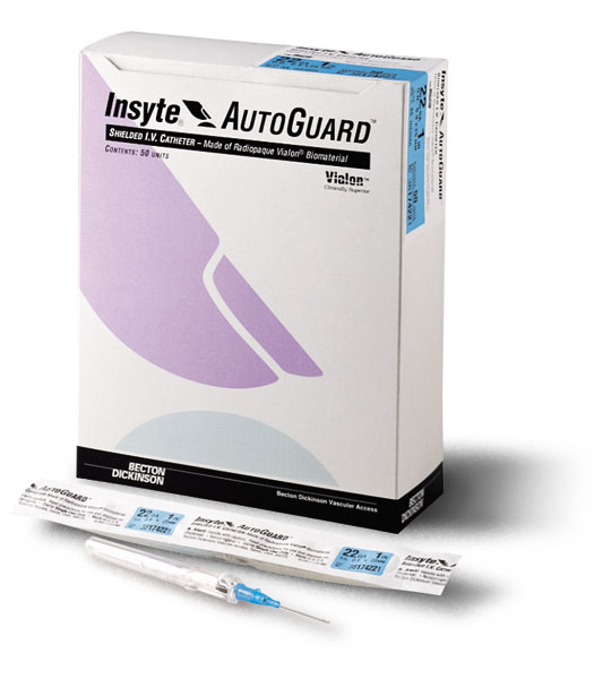 Responding to the needs of health care workers to protect against accidental needlestick injuries and exposure to bloodborne pathogens, BD introduced the Insyte AutoGuard IV Catheter in 1995. The product featured a unique push button design that instantly encased the needle, and a catheter made of Vialon biomaterial for a smooth, easy insertion with less patient trauma.
BD retained Griff/SMC to develop all launch communications for the breakthrough safety catheter in vascular access.
Introduce Insyte AutoGuard to users and purchasers of I.V. catheters.
Position Insyte AutoGuard as the shielded I.V. catheter that is easy to use.
Differentiate Insyte AutoGuard from all others as the shielded I.V. catheter made of Vialon biomaterial.
Focus on the unique push-button safety feature of Insyte Autoguard.
Emphasize the catheter's ease-of-use.
Present the clinically superior performance and cost benefits of catheters made of Vialon.
Hospital-Based IV Nurses
Clinicians
Purchasing Executives
In an independent readership study (Nursing Management), introductory advertising for Insyte AutoGuard placed 2nd overall in total reader interest.
In the first quarter of advertising, 544 new business leads were generated.
In the first quarter of introduction, sales for Insyte AutoGuard were 11% above forecast.
Today, Insyte AutoGuard is the leading I.V. safety catheter in the world.